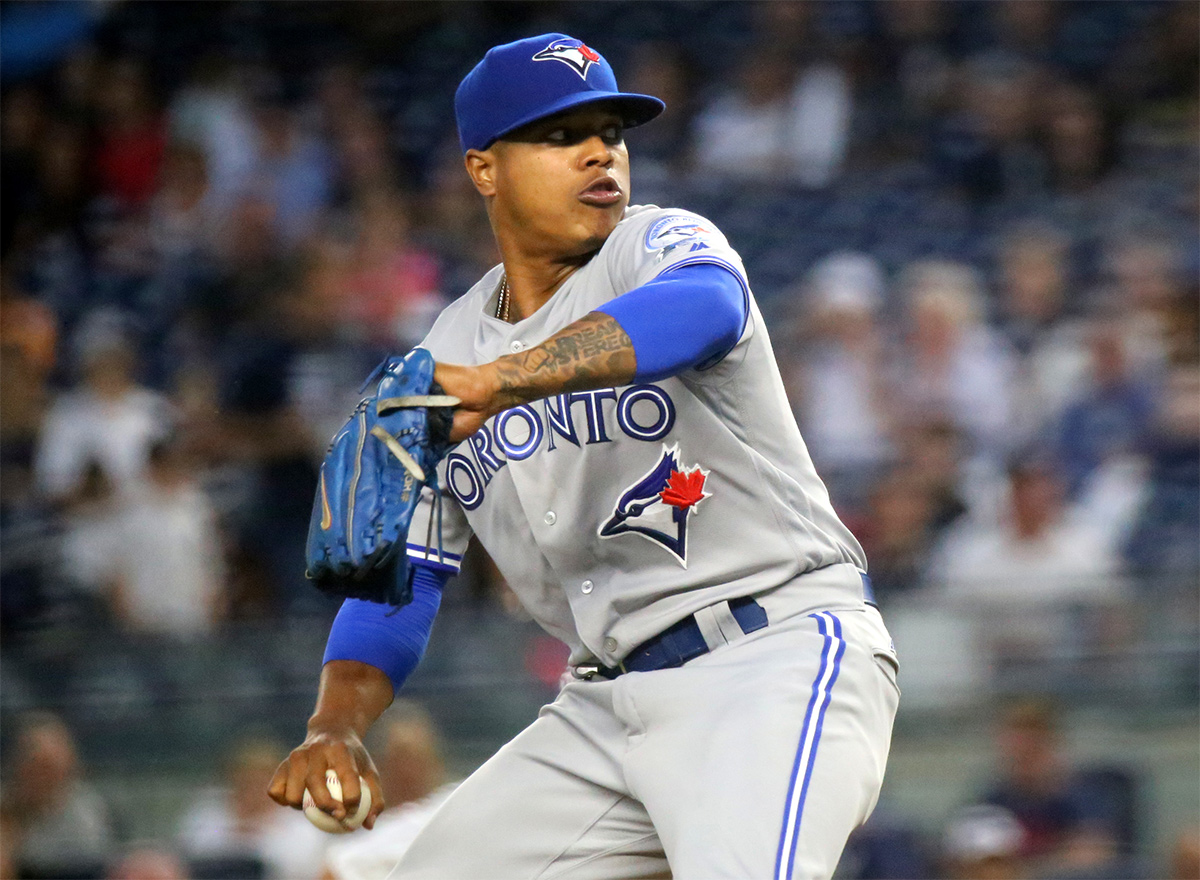 After losing most of the old core in what was a disappointing 2019 campaign, the Blue Jays may need to look closely at their rebuild plans. (Photo:
Arturo Pardavila III
)
The retooling of the Toronto Blue Jays hasn't gone quite as planned. While the team won't say so in such explicit terms, I believe that the original plan was to keep the basic core of the team together just long enough that reinforcements would arrive and save the team from a more painful long-term rebuild. Toronto's stable of All-Star relatives has started to arrive — possibly the most impressive such group in baseball history — but the MLB roster is in a worse state than I imagine the team had hoped.
The Setup
The 2017 Toronto Blue Jays could point to a run of bad luck as the possible culprit for dropping from 89 to 76 wins, but the 2018 Blue Jays probably ought to have let go of those hopes. The post-2018 offseason didn't feature much that would change the trajectory of the team, and the transactions were consistent with a plan of trying to simply stay relevant before players like Vladimir Guerrero Jr., Bo Bichette, and Cavan Biggio started hitting the major leagues. Moves were made but generally featured the supporting cast. In a perfect world, a healthy Matt Shoemaker and the resurgent Clay Buchholz could fill out the rotation, making up for the losses of J.A. Happ by trade and Marco Estrada by decline and then free agency. The thin bullpen that finished 21st in ERA and 23rd in WAR in 2018 before losing its top two pitchers by WAR, Seunghwan Oh and Tyler Clippard, could hopefully be buttressed with veteran free agents Bud Norris, David Phelps, Daniel Hudson, and John Axford.
As the team attempted to keep a skeleton crew together, the need to simultaneously add minor-league talent was obvious. The Jays traded off some of the players that were perceived to be surplus talent in an attempt to add to the team's depth. Russell Martin could be replaced by Danny Jansen, Aledmys Diaz didn't bring much that Lourdes Gurriel Jr. or Richard Urena couldn't, and Kendrys Morales's 2018 production could be replicated by Rowdy Tellez.
With just enough luck, the winter pickups would be enough when combined with the existing core (Marcus Stroman, Justin Smoak, Aaron Sanchez, Ken Giles, Teoscar Hernandez, Randal Grichuk) to make the Blue Jays a .500 team, or even a skosh better. Then the fun would start. The Jays later made the public argument that Vladimir Guerrero Jr. was not one of the best 25 players in the organization, but I don't imagine that a single person that heard that either believed it or even thought that Toronto actually believed it. Vladito and Bichette would be the latest on baseball's list of exciting phenoms starring quickly in the majors (with more on the way!) and help get the Blue Jays to at least the mid-80s in wins. And in a bifurcated American League, with a few great teams and several that looked like spring training B-squads, that might be enough to make a serious playoff run.
The Projection
The ZiPS projections weren't quite as confident as I believe the organization was about all the pieces of this Ocean's 11 ("Shapiro's 25?") plan all coming together in such a fashion. ZiPS is designed to not believe that the plan on paper is the one that actually happens and projected the Blue Jays to go 75-87.
While many of the elements could theoretically work out, Toronto contending would require a lot of things go their way, frequently against the odds. Shoemaker had almost always contributed when healthy but had not thrown 100 innings in a season since 2016. Sanchez and Stroman had never both been healthy and effective simultaneously with the possible exception of 2016. Smoak didn't emerge as a real contributor until 2017, was 32, and had already showed some signs of slippage in 2018. Devon Travis was rarely healthy, and ZiPS tried pumping the brakes considerably on Jansen, projecting a dropoff to a .717 OPS from his .779 debut mark.
It wasn't a projection devoid of hope, as ZiPS still gave the team a 2.1% chance of making the playoffs, partly due to the division (ZiPS would have given Toronto a 1-in-10 shot in the AL Central). As a whole, however, it was not a projection that suggested that the Blue Jays were likely to be serious contenders in 2019.
The Results
As you've probably already surmised if you paid attention to baseball at all in 2019, or at least noticed how early this #ElegyFor19 is going live, the Blue Jays did not reside in one of their sunnier scenarios this year. They have avoided one of their nightmare situations and will not have their first 100-loss season since the 1977-1979 expansion years, but the team was still distressingly close to hitting that milestone. So, what happened?
Smoak's decline continued, with his OPS dropping into the .750 range, and he became one of the seemingly few players to actually lose home run power in 2019. Smoak now faces an uncertain future as he approaches free agency as a replacement-level first baseman turning 33.
Stroman starred for the Blue Jays, earning 3 WAR on the back of a 3.52 FIP (and a 6-11 record!) before a deadline trade to the Mets. Little else went right for the rotation, the most notable disappointment being Sanchez staying healthy but simply pitching poorly.
Shoemaker was excellent in five starts and downright brilliant in his first two, throwing 14 scoreless innings to start the season, although admittedly against the Orioles and Tigers, before tearing his ACL. One of the other winter pickups, Buchholz, didn't even contribute this much and has an ERA of 7 in 11 starts after missing most of the season with shoulder pain. As of press time, the Jays have used 38 pitchers in 2019.
Travis's knee disappeared his 2019 season during spring training. With two years to go until free agency, Travis will likely be back, but it'll be hard for the Jays or any other team to count on him as a member of the starting lineup. Years of injuries have created serious questions as to whether he can stay in the lineup, and he's lost 50-70 points of OPS every season in the majors.
Despite the bleak seasonal results, not everything went poorly for the Jays in 2019. Trent Thornton, picked up for Diaz, looks like he'll at least be a reasonable fourth or fifth starter in coming years. The ever-fascinating Wilmer Font was picked up from the Mets for cash, and he has been Helvetica for the Blue Jays with a 3.33 FIP and 12 strikeouts a game over 35 innings after being pure Wingdings for the Mets. Font has four years until free agency and the Blue Jays ought to give him every opportunity in 2020.
Not all of the phenoms succeeded right away, but we saw tantalizing glimpses of the future. Biggio flashed 30/30 potential and looks a lot like someone who can fit at the start of the lineup, though his power potential will keep him out of the leadoff spot if the Jays go with a more traditional route to filling out the lineup card. Bichette was downright dominating, hitting .311/.358/.571 in 46 games at shortstop. Guerrero Jr. was not an instant superstar with an wRC+ of "only" 108 as 20-year-old rookie, but he did nothing to give us a negative outlook on his future.
What Comes Next?
The revival of the Jays was a bit slower than expected and there's now no possibility for the team to build around Stroman and Sanchez, short of eventually re-signing them as free agents. Guerrero, Bichette, and Biggio should be terrific for the Jays in coming years, but there's a lot more work involved to make the roster playoff-worthy. There are ample reasons for both pessimism and optimism, so let's look at this with Nice Szym and Mean Szym on my shoulders.
Nice Szym: The troika mentioned above could combine for 12 wins in 2020 in a not-particularly utopian projection. The Angels may not have yet figured out how to build a .500 win team around Trout, but that doesn't doom the Jays to failure in a similar scenario. And 12 wins is even better than Trout! The team could spend aggressively if they choose to, and the case for actual rather than self-imposed financial straits is far, far weaker than it is for a team like the Rays. Grichuk and Hernandez are young enough to be legitimate bounceback candidates in 2020. The team has not developed pitching phenoms yet, but there are a number of highly interesting pitching free agents this year that they could sign. A better year from Jansen and continued solid play from Gurriel, who eviscerated his projection, and this team could actually do in 2020 what they failed to do in 2019.
Mean Szym: The hitting prospects are great, but there's little behind them and the farm system ranks 25th on THE BOARD after these graduations. Yes, the Jays can choose to spend aggressively this winter, but that doesn't mean they actually will, and they didn't last year when a quick retool appeared to be their motivation. The team had the benefit of Stroman for two-thirds of the year in 2019, which they will not in 2020. Bringing in Gerrit Cole merely replaces that lost production, and even a willingness to go after Cole doesn't guarantee he'll actually come to Toronto until MLB allows teams to capture free agents in giant nets. The offense should be better, but fixing the pitching staff could take years, even in a best-case scenario with Shoemaker and Font, one I'm not predicting given their histories.
The Absitively, Posilutely, Way-Too-Early ZiPS Projection – Bo Bichette
Vladito wasn't an instant star in the majors, but Bichette may be one. He's already matched his father's near-MVP 1995 season of… uh… 1.8 WAR (insert laugh-cry). Some of you guys were sad that I didn't include two way-too-early projections last year and give you Bichette in addition to Guerrero, so better late than ever. Plus, Bo Bichette said fast sounds like Boba Chette, which gets him into the Star Wars Universe as a badass bounty hunter related to Boba Fett, an excitement very specific to my age group.
ZiPS Projection – Bo Bichette
| Year | BA | OBP | SLG | AB | R | H | 2B | 3B | HR | RBI | BB | SO | SB | + | DR | WAR |
| --- | --- | --- | --- | --- | --- | --- | --- | --- | --- | --- | --- | --- | --- | --- | --- | --- |
| 2020 | .287 | .344 | .484 | 492 | 73 | 141 | 29 | 4 | 20 | 65 | 43 | 88 | 24 | 121 | 1 | 3.7 |
| 2021 | .293 | .356 | .516 | 481 | 75 | 141 | 31 | 5 | 22 | 69 | 47 | 89 | 24 | 132 | 2 | 4.4 |
| 2022 | .294 | .360 | .529 | 486 | 78 | 143 | 32 | 5 | 24 | 72 | 50 | 94 | 24 | 137 | 2 | 4.7 |
| 2023 | .294 | .363 | .540 | 487 | 81 | 143 | 32 | 5 | 26 | 74 | 53 | 97 | 23 | 140 | 2 | 5.0 |
| 2024 | .295 | .365 | .551 | 485 | 82 | 143 | 31 | 6 | 27 | 77 | 54 | 99 | 23 | 143 | 2 | 5.2 |
| 2025 | .292 | .365 | .554 | 473 | 80 | 138 | 31 | 6 | 27 | 75 | 55 | 98 | 24 | 144 | 1 | 5.1 |
To paraphrase Judge Potter Stewart, I don't know how to specifically define a superstar and perhaps I could never succeed at intelligibly doing so, but I know it when I see it, and the player in this case is one.
I'll leave you with the top 10 from Bichette's current offensive comps list, for players at similar points in their careers:
Adrian Beltre
Lou Boudreau
Robin Yount
Alex Rodriguez
Wil Cordero
George Brett
Ryan Zimmerman
Troy Tulowitzki
Ken Keltner
Alan Trammell
Yes, Wil Cordero is on this list, but when the second-worst player at the top of your comp list is either Ryan Zimmerman or Ken Keltner, something's going amazingly right for you.